News Summary:
• Dell Technologies has introduced several concept devices which demonstrate the future of PC and gaming experiences.
• New Concept UFO was newly announced with 10th Generation Intel® Core™ processors along with detachable controllers that allows to switch platforms for high performance gaming.
• Dell's Concept Duet and Concept Ori were set in motion which enables PCs to offer foldable and dual screens for ultimate user experiences.

Full Story:
Dell Technologies (NYSE: DELL) has introduced several new devices concepts on the future of the personal computer. Each concept has been developed with spectacular user experiences as primary focus and will keep on enhancing these experiences as the concepts advance. While some concepts may never be commercially available, the learnings will be used and applied to other products in the future.
PCs will continue to play a key role in daily lives in the coming decade, making it possible for users to act on data, to create, innovate, collaborate and play. They are one the most important portals into the artificial intelligence (AI) engines that will live at the edge and in the cloud, driving millions of inferences.
Introduction of Concept UFO
Alienware's primary mission is to deliver the most immersive PC gaming experiences possible, and Dell's goal is to create a gaming PC worthy of the Alienware brand, in a handheld form factor that gamers could use to play their favorite AAA PC titles in any places.
Concept UFO features an 8" screen with 1900×1200 resolution display. It also includes detachable controllers in which users can game in a range of modes: as one unit, with controllers attached to the screen; separating the controllers and using the kickstand on a surface to game or stream any favorite show. (For example, a table, or a tray on an airplane or train); or connect it to an external display and play using the detached controller or use a mouse and keyboard like any other PCs.
Dell Technologies' teams have invested immense amount of time on the controller design features and ergonomics, as well as testing and enhancing the buttons and weight in the last few months, all to strike a perfect balance between performance, ultra-mobility and battery life. Using 10th Generation Intel® Core™ processors along with WiFi, Bluetooth, and Thunderbolt for high performance gaming, networking and connectivity, Concept UFO offers uncompromised on-the-go performance.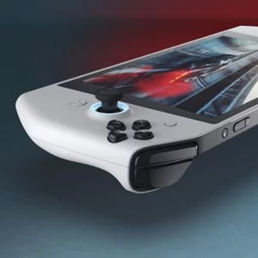 Concept UFO

Concept Duet and Concept Ori offers dual screens to further enhance user experience
PCs will become more intelligent, self-aware, and user-aware. Form factors may change to enable new usage models; and as technology continues to evolve, so will the ways in which we experience it. Dell Technologies Experience Innovation Group is constantly developing and testing solutions to help users work faster, play harder, stay connected and be more productive, working closely with partners to explore ways to deliver the best experiences together.
Concept Duet is a dual screen device with two stunning 13.4-inch displays that adapt to various ways of work and play. While it may look like an ordinary notebook, Concept Duet would allow users to take a pen and touch-enabled second screen experience anywhere with them. Innovative features have been incorporated to create intuitive interactions with the device and enhance the user experience. Concept Duet will help customers to multitask more efficiently. Consider the productivity benefits of being able to compare and edit images, scenes or documents on each display. With the extra screen real estate, users will also be able to easily host conference calls, check emails and take notes simultaneously on-the-go.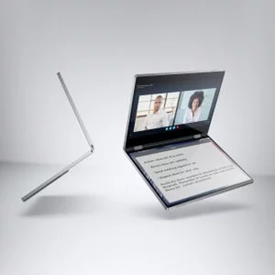 Concept Duet

Concept Ori is a foldable device which offers a familiar-sized, 13" screen that can be carried around easily. It also offers similar experiences and benefits to dual screens, but with the added advantage of no seams. This "seamless" experience is perfect for reading articles in vertical mode and scrolling down the page, watching movies and more. Users could switch between the single screen experience with stunning visuals, favorite apps, and great pen experience; or a dual screen experience that opens new avenues for multitasking and notetaking, and everything in between.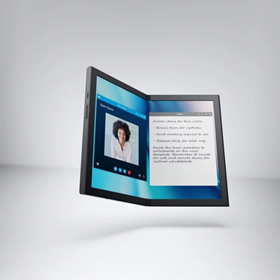 Concept Ori

About Dell Technologies
Dell Technologies (NYSE:DELL) is a unique family of businesses that helps organizations and individuals build their digital future and transform how they work and live. The company provides customers with the industry's broadest and most innovative technology and services portfolio spanning from edge to core to cloud.

# # #
Copyright © 2020 Dell Inc. or its subsidiaries. All Rights Reserved. Dell, Dell Inc. and the Dell logo are trademarks of Dell Technologies in the United States and/or other jurisdictions. All other marks and names mentioned herein may be trademarks of their respective companies.

For more information, please contact:
Dell Technologies Hong Kong
Elaine Leung
Office: 2839 1486
Email: elaine.leung@dell.com

iPR Ogilvy
Leo Chung
Office: 3920 7675
Fax: 3170 6606
Email: leo.chung@iprogilvy.com

Edward Lai
Office: 3920 7662
Fax: 3170 6606
Email: edward.lai@iprogilvy.com